Identifying Initial Downy Mildew Symptoms in Cucurbits Is Critical for Successful Management

Margaret Tuttle McGrath
Department of Plant Pathology, Cornell University
Long Island Horticultural Research and Extension Center
3059 Sound Avenue, Riverhead, NY 11901

Knowing how to identify the first symptoms of downy mildew in cucurbit crops is a critical component of an effective management program. Level of control achievable with fungicides can decline greatly when applications are delayed after downy mildew onset. Downy mildew can begin to develop at any time during crop development, including the cotyledon stage. In contrast, powdery mildew typically begins to develop in field-grown cucurbit crops over a narrow period in crop development around the time of initial fruit formation; earlier in severely stressed plants and later in early-spring summer squash crops. Applying fungicides preventively throughout crop development for a disease that could begin to develop at any time, including late in the season when yield will not be impacted, is undesirable and not economical. Fungicides for downy mildew that are mobile in the plant are most effective but unfortunately they have narrow-spectrum activity, in particular lacking efficacy for the most common cucurbit foliar disease, powdery mildew, thus these fungicides are only recommended when downy mildew is present. Downy mildew was an important disease problem in cucurbit crops in 2004 and 2005.
Initial symptoms of downy mildew observed in New York include small yellow spots (figs 1 and 3) and small irregular black spots with yellow-green border (fig 4 and 5). First symptoms also can be a water-soaked spot (fig 2). Infection does not expand beyond veins thus spots develop an angular appearance as the spots expand (figs 3 and 7). Sometimes several spots occur together forming a yellow patch that can have an orange tint, especially in pumpkin (fig 6). Additional images of downy mildew are at http://vegetablemdonline.ppath.cornell.edu/NewsArticles/Cuc_Downy.htm.
With a good hand lens it may be possible to observe pathogen spores on the underside of leaves opposite these initial symptoms of downy mildew, thereby confirming the diagnosis, but spores are not always present in addition to being very small and thus hard to see. Spore production can be encouraged by putting leaves on damp paper toweling in a plastic bag for about 24 hours. Spores are lemon-shaped, dark gray with a purplish tint, and form on short specialized hyphae (condiophores). As spots develop, further spore production may occur resulting in the underside of spots becoming visibly fuzzy due to the dark spores without the need for magnification (fig 7); however, spores do not always form, even when leaves are incubated in a moist environment.
Information on fungicides, resistant varieties, and the on-line downy mildew forecasting system is presented at http://vegetablemdonline.ppath.cornell.edu/NewsArticles/Cuc_Downy.htm.
Fig 1. Yellow spots on the upper surface of these pumpkin leaves are early symptoms of downy mildew. These are not diagnostic as similar spots can occur with other diseases, notably powdery mildew. Click on photos for enlargement
Photo Courtesy of M.T. McGrath, Long Island Horticultural Research and Extension Center, Cornell University
Photo Courtesy of M.T. McGrath, Long Island Horticultural Research and Extension Center, Cornell University
Photo courtesy of T.A. Zitter. Cornell University
Photo Courtesy of M.T. McGrath, Long Island Horticultural Research and Extension Center, Cornell University
Photo Courtesy of M.T. McGrath, Long Island Horticultural Research and Extension Center, Cornell University
Fig 2. Early lesions of downy mildew in melon usually appear water-soaked on the underside of leaves.Click on photo for enlargement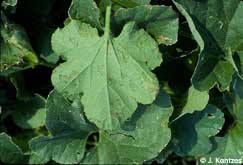 Photo courtesy of J. G. Kantzes, Professor Emeritus, Department of Botany, University of Maryland
Fig 3. Yellow spots on cucumber leaves due to downy mildew.Click on photo for enlargement
Photos Courtesy of M.T. McGrath, Long Island Horticultural Research and Extension Center, Cornell University
Fig 4. These small irregular black spots with yellow borders are early symptoms of downy mildew in pumpkin.Click on photo for enlargement
Photos Courtesy of M.T. McGrath, Long Island Horticultural Research and Extension Center, Cornell University
Fig 5. Early symptoms of downy mildew on the upper and lower surface of a winter squash leaf.Click on photo for enlargement
Photos Courtesy of M.T. McGrath, Long Island Horticultural Research and Extension Center, Cornell University
Fig 6.

Patches of yellow tissue on winter squash and pumpkin leaves due to downy mildew.

Photos Courtesy of M.T. McGrath, Long Island Horticultural Research and Extension Center, Cornell University
Fig 7.

Purplish dark gray spores of the downy mildew fungus only develop on lower surfaces of leaves and are easily distinguished from white spores of the powdery mildew fungus. Note that downy mildew spots often have an angular appearance because they do not enlarge beyond major veins. This is most evident on the lower surface. Yellow spots are on the upper surface of this leaf opposite where spores have developed on the lower surface. One section of this leaf has died because of downy mildew.

Photos Courtesy of M.T. McGrath, Long Island Horticultural Research and Extension Center, Cornell University