Snap Bean —A New Host for Phytophthora Blight to Further Challenge Management

Margaret Tuttle McGrath
Department of Plant Pathology, Cornell University
Long Island Horticultural Research and Extension Center
3059 Sound Avenue, Riverhead, NY 11901

June 2004
Successfully managing Phytophthora blight has been a challenge. No fungicides have been found yet that are sufficiently effective that they can be relied on as the primary control practice. Control recommendations therefore focus on cultural practices. Rotation to non-host crops is one recommended practice because the causal fungus can survive in soil. Physically separating plantings of susceptible crops is also recommended. For more information on management see

http://vegetablemdonline.ppath.cornell.edu/factsheets/Cucurbit_Phytoph2.htm

Recent findings of new hosts has increased the challenge of managing Phytophthora blight. This disease is a major problem in pepper and all cucurbit crops. It also occurs in eggplant and tomato. Pod rot in lima bean due to Phytophthora capsici , the pathogen causing blight in cucurbits, has been occurring in the mid-Atlantic region since first seen in 2000 (Figure 1).

Growers in the mid-west had been reporting worst Phytophthora blight in cucurbits planted after green beans and soybean. In Michigan in 2003, dying green bean plants were observed with blight symptoms in the crown and upper stems. These symptoms were confirmed to be caused by Phytophthora capsici (Figures 2 and 3). New York growers need to be on the look out for dying green bean plants. Report possible occurrences of Phytophthora blight on snap bean to local extension specialists so that presence in NY of strains of Phytophthora capsici pathogenic on bean can be verified.

Weeds may provide a means for Phytophthora capsici to survive between susceptible crops. This could explain why long rotations have not been effective in some fields. Research conducted in FL has revealed that Phytophthora capsici can survive on roots of some weeds. Proportion of weeds with the pathogen were low, but purslane was one of the more common ones.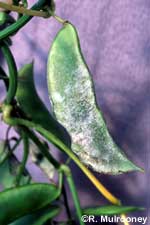 Figure 1. Pod rot in lima bean due to Phytophthora capsici (courtesy of Robert Mulrooney, University of Delaware).
| | |
| --- | --- |
| | |
| Figure 2. Snap bean plants in a low section of a field dying due to Phytophthora blight (courtesy of Amanda Gevens and Mary Hausbeck, Michigan State University). | Figure 3. Symptoms of Phytophthora blight on snap bean (courtesy of Amanda Gevens and Mary Hausbeck, Michigan State University). |